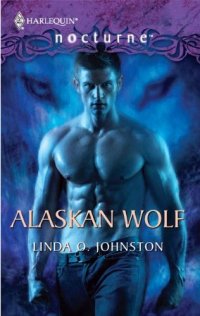 Alaskan Wolf
Linda O Johnston
Mass Market Paperback, 288 pages
Published December 1st 2010 by Harlequin
ISBN 0373618492 (ISBN13: 9780373618491)

When naturalist Mariah Garvey travels to the remote Alaska glacier region, she finds an abundance of beauty unparalleled in the Lower 48. The stark landscape, the vivid life force—and the powerful appeal of her rugged new guide, Patrick Worley.

For Patrick, the beautiful nature writer is an unwelcome distraction. His job at the Great Glacier Dog Ranch is only a cover for his classified work with Alpha Force. He is on a mission to uncover the truth behind a series of deadly explosions, and her presence hinders his ability to shape-shift and to hunt—as only a werewolf can. Even if he, too, feels an animal lust hot enough to melt the Alaskan ice, he knows their desire cannot be satisfied. Nor can it be denied.
Patrick Worley is a wolf shapeshifter and a member of Alpha Force, a military squad made up of other shapeshifters. All require a certain elixir that will help them have control over their shifts and maintain human reasoning while in their second form.
Mariah, a writer for a nature magazine, shows up on location of his current task. He, then, is assigned as her sled musher and guide.
The very first night, Patrick kisses Mariah to avoid her probing personal questions. The next night, she kisses him to keep up the habit. It goes back and forth like that for a while. There's not much of an action factor but the story does have a way of keeping the reader's interest. I didn't personally understand Mariah's attraction to Patrick though. Aside from his kisses, he never really expressed any interest in her. Quite the opposite actually. Every time she showed up he told her to leave. Or he simply just walks away.
When Mariah comes to learn what Patrick is, she's relatively calm about it. No big deal. And with nothing more than her lame promise not to write about it, Patrick has no qualms whatsoever about going into all the details of what he is.
Things were all good, or at least tolerable, until Patrick had Mariah fill out a form to get clearance from the military. Only then would he go into the particulars about his mission. I seriously wanted to drop the book then and there as he informed Wes and Mariah that they were both acting as his back up but were not to discuss anything they see, think, or suspect with one another. He would keep them informed separately and strictly on a need to know basis.
And they went along with it. I call bullshit! 3 out of 5 stars.